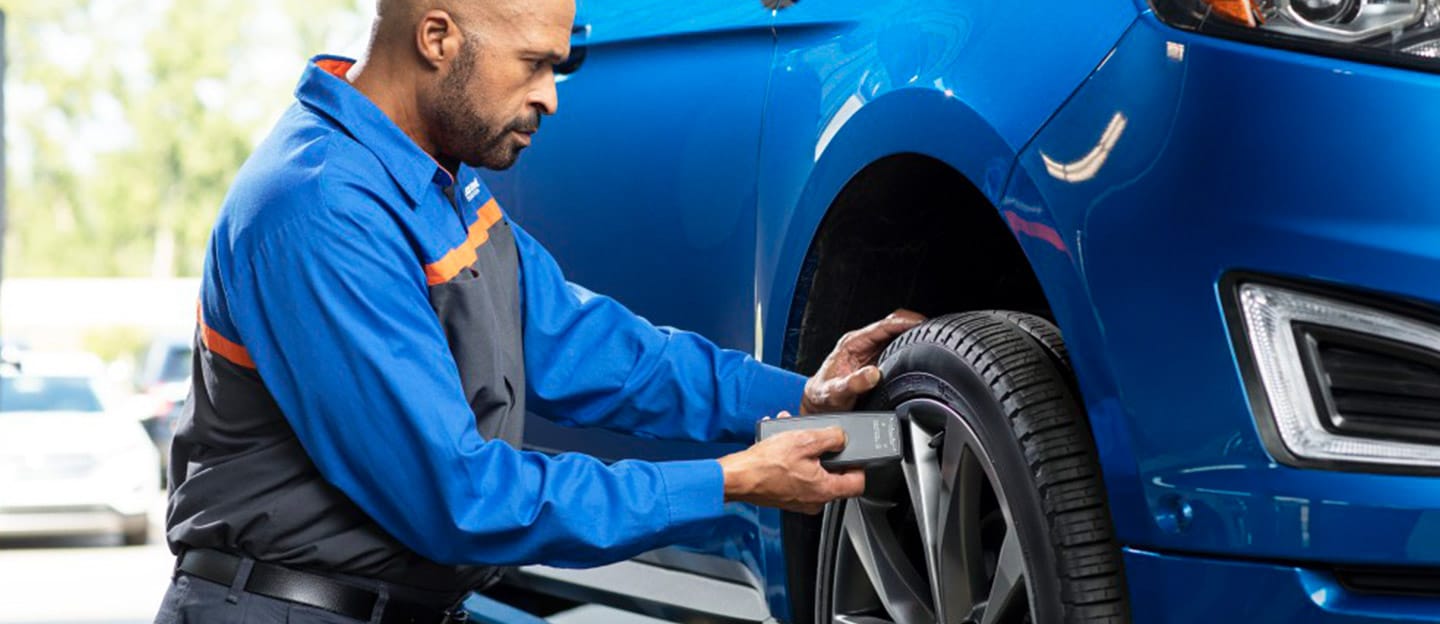 Quick Lane Tire & Auto Center at Hobson Ford
Serving the Greater Bedford Area
Quick Lane® is your go-to place for routine auto maintenance for all vehicle makes and models. Get extraordinary service from expert technicians. Find quality parts from Motorcraft® and OmnicraftTM. And take advantage of our Low Price Tire Guarantee.
Hobson Ford offers convenient evening and weekend hours. Visit us for trusted vehicle maintenance services covering all the essentials: tires, oil change & maintenance, brakes, batteries, alternator & electrical system, air conditioning system, cooling system, transmission service, suspension & steering, wheel alignment, belts & hoses, lamps & bulbs, wiper blades, and a thorough vehicle checkup report.
Purchasing, Maintaining, and Caring for Tires at Quick Lane® Tire & Auto Center
At Quick Lane® Tire & Auto Center, we understand the importance of top-performing tires for your vehicle's performance, safety, and fuel efficiency. We offer a wide selection of premium tires from reputable manufacturers and provide expert advice to guide you in choosing the right tires for your specific vehicle and driving habits.
Our maintenance services ensure your tires last as long as possible. We offer services such as tire rotation, alignment, and balancing to help maintain optimal tire performance and extend its lifespan. Our technicians also carry out thorough inspections to detect signs of wear, damage, and aging, offering timely replacements when needed. We care for your tires as much as you care for your safety on the road.
Auto Services Offered By Quick Lane® Tire & Auto Center in the Bedford Area
Our mission is to keep your vehicle in peak condition, providing a wide array of automotive services to meet all your maintenance and repair needs.
Oil Change Service
Proper lubrication is essential to keep your engine running smoothly and efficiently. Our team offers fast, high-quality oil change services, including replacing the oil filter and checking the oil levels to ensure your vehicle performs at its best.
Brake Service
Safety is our top priority. That's why we provide comprehensive brake services, including inspection, repair, and replacement of brake pads, rotors, and fluids, ensuring your vehicle has optimal stopping power when you need it most.
Battery Test
A reliable battery is vital for the overall operation of your vehicle. We offer battery testing and replacement services to ensure your car starts every time without fail and your electrical components function as intended.
Engine Cooling System Service
An overheated engine can lead to significant damage. Our cooling system service includes a complete check of your radiator, thermostat, coolant fluid level, and all hoses and belts, ensuring your engine stays cool, even under the most demanding conditions.
Inspection of Belts and Hoses
Belts and hoses are integral components of your vehicle, but they can wear out over time. We offer thorough inspections and replacements of these vital parts, promoting the longevity and reliability of your vehicle.
Is Your Ford Ready for Quick Lane® at Hobson Ford?
Your Ford is a marvel of automotive engineering that deserves only the finest care. Quick Lane® Tire & Auto Center at Hobson Ford is ready to deliver exactly that. From routine maintenance to unexpected repairs, we provide a complete range of services tailored to your Ford's specific needs.
Our technicians, trained in the latest Ford technologies, use genuine Ford parts and tools to ensure that your vehicle gets the top-tier treatment it deserves. And with our commitment to prompt and efficient service, we'll have your Ford back on the road as quickly as possible, in the best shape it can be. Trust your Ford to Quick Lane® at Hobson Ford for the unparalleled care that you and your vehicle deserve.
For quality, convenience, and reliable service in the greater Bedford area, choose Quick Lane® Tire & Auto Center at Hobson Ford. We're your one-stop shop for all your vehicle's tire and servicing needs.
(888) 490-8933
Hours
Monday

9am-7pm

Tuesday

9am-7pm

Wednesday

9am-7pm

Thursday

9am-7pm

Friday

9am-7pm

Saturday

9am-5pm

Sunday

Closed